Durga Puja 2022– Unfold The Significance of UNESCO Heritage Festival
Durga Puja 2022 is significant because of prohibition to last two years of pandemic situation due to Corona virus. People were afraid and forced to stay back at home last two years. They were unable to enjoy properly in the festival.
But this year at last we successfully defeated the pandemic and again ready to enjoy our most favorite festival Durga Puja with full energy. It is a festival of Bengal but it became the festival of Universe. This is the only festival that is participated by all kind of people through the world. Behind Durga Puja the Mythological history was found since ages. The story behind it is "Mahishashura Bodh". It is to be believed that Mahishashura was an evil whom Ma Durga destroyed with her ten hands and "Maha Shakti" that has given her by Lord Shiva is called"Trishul". The festival is celebrated of the victory of Good or holy over Evil or bad.
All Rituals In Durga Puja 2022
Durga Puja is 5 day long festival which is involved many types of rules that has to be followed part by part daily. Durga Idol first established in the pre located platform is called "Bedi" means "Asana". Before Goddess came the first thing that has to performed is called "Bodhon". It is a worship of offer welcome of "Matri Paksha" which is started from "Pratipad" is called "Mahalaya". Next started "Nabaratri" from "Ekadashi".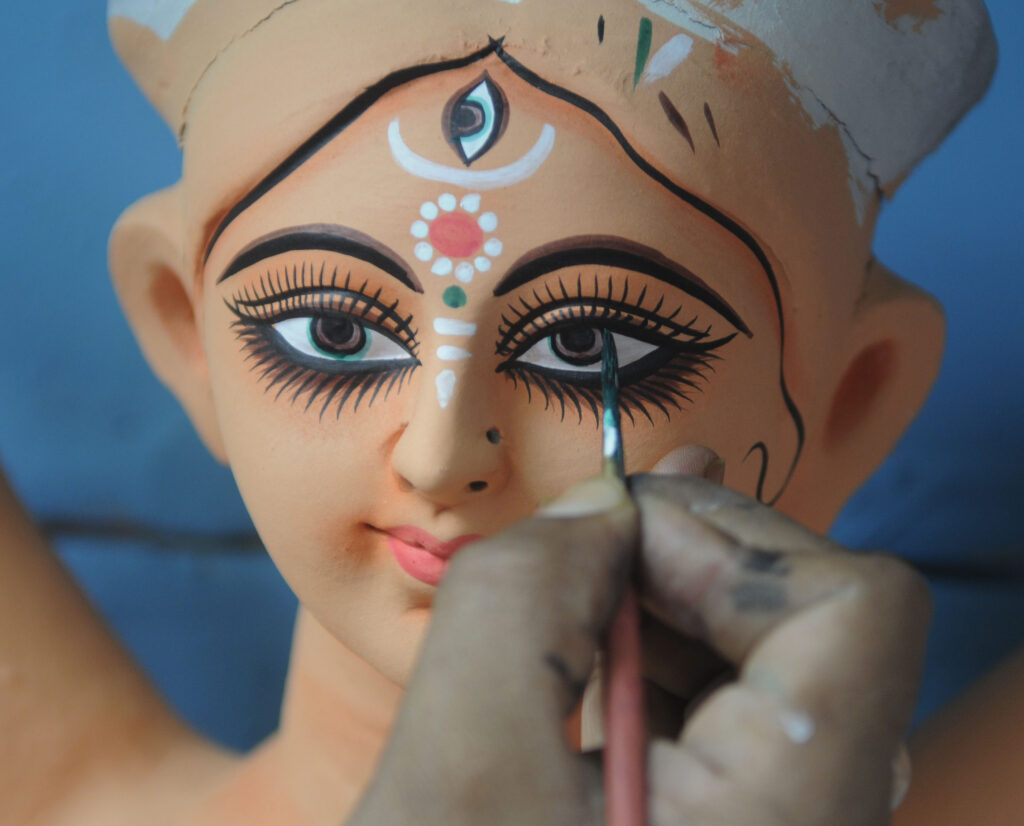 This year Mahalaya is on 25th September. Mahalaya means "Maha Joyti or Light" started from this day which is called started of "Debi Paksha". In "Mahalaya" "Matri Paksha" started and "Pitri Paksha" completed. Durga Puja is celebrated in the month of "Ashwin" and it is a 10 days significant worship of Devi Durga for destruction of evil and victory of goodness. It is a celebration of joy for victory over evil.
Devi "BODHON"
Devi "Bodhon" started from Mahalaya in some places. But in Maximum "Bodhon" is started from Day after Mahalaya on "Pratipad". From Bodhon actual Puja is started. A Mangal Kalash is placed is called "Bodhon Ghot" and one dedicated priest chant Mantras called "Chandipath" performed two times morning and evening every day till "Nabami". Bodhon is procedure for establishing "Life" of Goddess. From Pratipad to Nabami Chandipath is performed and has to be completed within Nabami. These nine days total rituals called as "Nabaratri".
Nabaratri
The total worship of Devi Durga performed through day wise small parts. The person who arrange the whole puja has to made a "Sankalp" on Bodhon. He or she has to maintain a nine days fast till Nabami. Only one time host can take food of some fruits or Bhog or "Hobishyanno" that is also after sun set. But some where it is allowed to eat food anytime but only veg or fruits or Hobishyanno, only "Swattik Ahar" is allowed.

Host are not allowed to use oil through the Nabaratri period. They can not touch oil on hair also. The same is continue till "Panchami". Next day is "Shasthi"and real Durga Puja is Started from this day.
Shasthi has two significant part. One is "Adhibash" and second is "Baran". It is believed Ma Durga with her family comes to earth on Shasthi. That's why "Pran Pratistha" or life formation of Idol performed on Shasthi. The five days from Shasthi is called Shaptami, Ashthami, Nabami and Dashami. These five days Ma Durga stay on Earth as her parent home. On the day of Dashami Ma Durga will go back to her in laws home and that day celebrate as "Bisharjan" the end of durga Puja.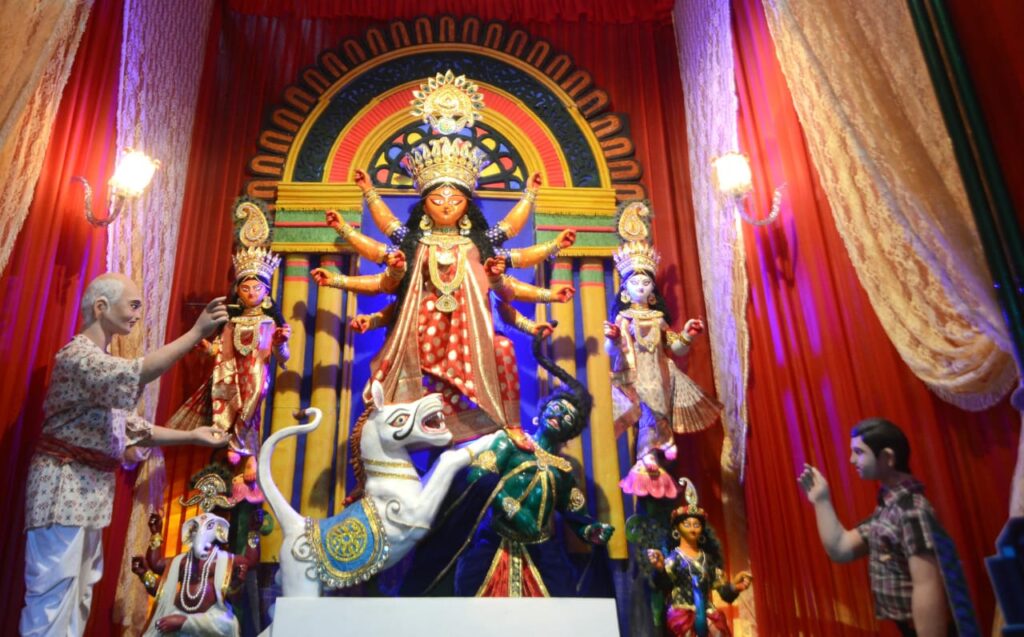 On Saptami Morning Devotees performed "Kalabou Snan" with banana tree as symbol of Ma Durga as daughter of earth. After Kalabou Snan a new sari covered the banana tree and placed it in front of Durga Idol as Kalabou. Then arrange for Maha Saptami Puja and Pushpanjali.
In evening Maha Saptami Aarti is performed with magnificent and Gorgeous decoration and light, huge lamps with colorful flower. Fragrance of "Dhup Dhunos" with enchanting Mantras, all makes an out of the world environment to feel your heart wow.
Next day is Maha Ashthami and most important day that fill with various parts of puja rituals. First of all Maha Ashthami Puja, Aarti. After that most important part of the puja is "Kmari Puja" and "Sandhi Puja" with Aarti. After Kumari Puja "Dhuno Porano". After all done devotees performed "Dhunuchi Dance" with "Dhak".
Next day is Maha Nabami and is famous for "Boli" or give away to Goddess your favorite thing, that is most cases is fruit are consider as "Boli". In some places animal could be offered as Boli like goat. At last the "Dakshinanta" will be performed as end of Nabaratri where host gives "Dakshina" to Brahmin to officially end of fast and have nonveg or normal foods.
This year Durga Puja Time and days are as below :
Mahalaya on 25th September.
Pratipad on 26th September Nabaratri or Bodhon start, and completed till 5th October.
Devi Durga "Agamon" or arrival by "Gaj" or Elephant and "Gaman" or departure by "Nauka" or Boat.
Find out the History Behind the Festival Durga Puja.