Maha Shivaratri 2023 An Auspicious Festival To Honor The Eternity Of Universe Lord Shiva
Maha Shivaratri 2023 is going to celebrate on the day of February 18, on Saturday. The eternal shakti Lord Shiva is worshiped with full enthusiasm in the occasion for celebration of marriage of Shiva and Shakti as Parvati.
Maha Shivaratri 2023 – The Cause Of Celebration
Shivaratri 2023 is a celebration of eternal love, faith and togetherness of Lord Shiva and Maha Shakti. After hard penance of thousands of years Maha Shakti appears as Mata Parvati and Lord Shiva agreed to married her. In her that incarnation Maha Shakti was known as daughter of Daksh Pajapati.
The marriage of Shiva and Shakti celebrated on Shivaratri as reunion of Shiva and Shakti every year. Shivaratri is all about worship of Lord Shiva, who is believed to be the existence of present, past and future and whole Universe.
Other than this story some more stories are also said to be the possible cause of celebration Maha Shivaratri. Another story is regarding absorb poison by lord Shiva to save the universe from the effect of poison. When sea churning was happened between Devta and Demons for searching ambrosia, poison also emerged from the sea with other things. Lord Shiva then drink all the poisons to save the Universe. Maha Shivaratri is celebrated to honor Lord Shiva to save the Universe.
Another story is said to be the cause of celebrating Maha Shivaratri is regarding minimize the force of Ganga with his matted locks to save the universe from destruction. When Goddess Ganga descending to earth from heaven in full force, the terrible power of water could destroy the whole creations of Universe. Lord Shiva then caught her to his matted locks and release her water distributed in several rivers and stream to avoid destruction. To honor Lord Shiva Maha Shivaratri is celebrated for this reason and Shivalinga is worshiped with bathe in holy Ganga water and milk.
According to Hindu Religious it is believed that the form less God Sadashiv appeared in the form of a Lingodbhav Moorthi at middle of night. People also offer worship to be awake in the night with enchanting Mantra "Om Namah Shivay."
In Hindu culture Maha Shivaratri represent the convergence of Shiva and Shakti that created the universe. The night of Maha Shivaratri awakens of devotees for overcoming darkness and ignorance of life. It is a process of awaken inner calls from soul that can reform within to follow the way of light which Lord Shiva offering for Moksha to get rid of reborn cycle.
Some legend describe the cause of Maha Shivaratri celebration that Lord Shiva performs the cosmic dance for creation, preservation and destruction of Universe. Devotees also perform singing and dancing like him to respect him.
Another legends demand Lord Shiva performs "Tandav" on this night after Mata Sati's Death. To save from the destruction of his "Tandav" the whole universe bathe his icon "Shiva Linga" with Ganga's holy water and milk to worship him and pray for saving the planet from his anger.
How To Perform Worship Of Shiva In Maha Shivaratri 2023
The process of worship Lord Shiva is not easy. The penance of whole day and night without taking food and also water, devotees awake whole night to impress Lord Shiva. Chanting the Mantra of "Om Namah Shivay" devotees offer Bel leaves to Shivalinga and pour holy Ganga water and milk for Abhishek. Without having any foods devotees sings, dance joyfully whole night. All temples of lord Shiva arranged for Rudra Puja and Shiva Linga Abhishek for devotees.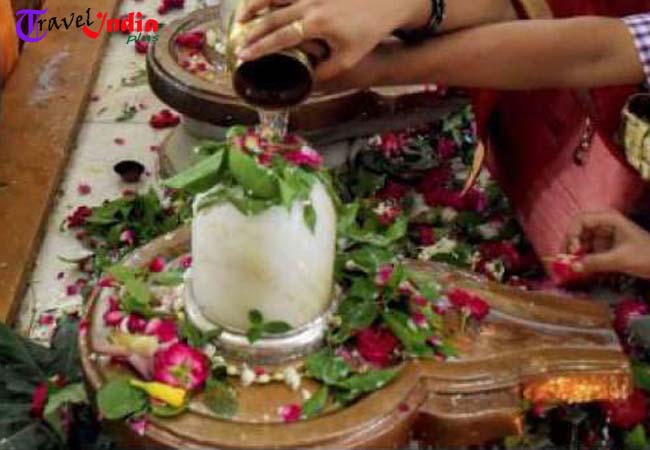 Devotees continue fast whole day and Jagran in night to get blessed from Lord Shiva. In that way they test their determination and strength to attain success. After puja next day morning devotees break their fast and take Prasad as food.
Devotees advised to meditate to get auspicious blessings on the night of Maha Shivaratri with enchanting Om Namah Shivay Mantra. Divine is within you, let it wake up. Enchanting "Om Namah Shivay" perfectly elevate your energy to awake in the night to perform the worship of Lord Shiva.
Maha Shivaratri 2023 Puja Time And Date
Maha Shivaratri 2023 is going to celebrated on 18th February on Saturday. According to Drik Panchang,
Night Puja time : 12.09 pm 18th Fab to 12.00 am 19th Feb.
Night puja time or Nishita Puja time is most auspicious in Hindu religious. It is believed that the level of spiritual energy at it's highest on that time.
Maha Shivratri 2023 Celebrated In All Famous Shiva Temple In India
Like every year Maha Shivaratri 2023 also celebrated in all famous Shiva Temples in all over India. Even though the festival is not limited to any particular region. But some places arrange exclusive accommodations for devotees to celebrate and perform worship with full enthusiasm. Here is some list of such Temple where devotees can pray and enjoy the festival and take part of night puja or Rudra puja.
Nilkanta Mahadev Temple in Haridwar
Umananda Temple, Guwahati
Bhavnath Temple, Junagarh
Mahakaleswar Temple, Ujjain
Matangeswar Temple, Khajuraho
Srisaila Mallikarjuna Temple, Andhra Pradesh
Bhutnath Temple, Mandi
Tilbhandeshwar Temple, Varanasi
Lokenath Temple, Puri
Somenath Jyotirilinga Temple, Veraval
Isha Yoga Centre, Coimbatore