Diwali 2022 — An Auspicious Festival Of Light
Diwali 2022 is going to be celebrated on 24th October this year. Diwali is an auspicious 5 days festival which is celebrated all over India like Durga Puja. It is also known as "Festival Of Light".
Diwali 2022 Dhanteras
Diwali actually started from 22nd October on "Dhanteras". "Dhan" means 'Ayshwarya" and "kuber" is known as Deity of "Dhan". Mata Laxmi is also known as "dhanalaxmi". In Dhanteras people worship Kuber and Mata Danalaxmi to get Ayshwarya or Dhan. It is believed that Mata Laxmi has come to our house to give Dhan on this day. It is believed that Mata Laxmi was appeared from milky sea when it was shaken on Dantrayodoshi. That is why Mata Laxmi is worshiped and celebrated as festival is called "Danteras". Kuber also worshiped along with Mata Laxmi on Dhanteras.
Diwali 2022 Dhanteras Time and Date
Dhanteras 2022 is going celebrated on 22nd October, Saturday.
Time : 7.34 pm to 8.40 pm.
Diwali 2022 Significance
After 2 days of Dhanteras Diwali will be celebrated this year. On Diwali people decorate houses with lamps and Diya. It is believed that after 14 years of "Banabash" Sri Ram retuned to Ayoddha with laxman and Sita. That night was darkest and the month of Kartik in Amavashya Tithi. People of Ayoddha was lighten the way of Sri Ram with earthen lamp and all houses was lighten with lamps and Diyas to show the path clearly.
That is why Diwali is celebrated on Amavashya Tithi in the month of Kartik in Hindu festival. People lighten all possible way to ease the darkness and celebrate the home coming of Sri Ram with Laxman and Sita. That is why it is an auspicious festival of light for Hindus.
Diwali is also known as Laxmi-Ganesh Puja. Devotees worship Laxmi and Ganesh for wealth and good vibes to come into their houses and work places. People also offers sweets and gifts to their well wishers to spread good wishes to each other. People gather with family and friends to celebrate the festival with decorated lightings, foods, gifts and enjoy colorful various fire crackers in their homes.
Diwali 2022 Date And Time
Diwali 2022 is going to celebrated on 24th October, Monday.
Amavashya Tithi starts from 5.27pm on 24th October and continue till 4.18pm on 25th October.
Diwali 2022 Kali Puja
Diwali 2022 Kali Puja
Kali Puja is celebrated in Hindu ritual on month of Kartick after Durga Puja on Amavashya Tithi. This year kali puja stands on same day with Dewali 2022. Mata Kali is another Avatar of Mata Durga or Parvati. Kali Puja is famous in Hindu and worshiped on Amavashya Tithi of Kartick month. This year Kali Puja will be celebrated after Diwali 24th October.
Story Behind the History Of Mata Kali
It is believed after Defeat Mahishashura Maa Durga became angry when she listen about two more Demons named Chanda and Munda. They performed all destruction in Swarga Lok and Morto Lok during that days. People were afraid and Saige Narada complained to Mata Parvati for all deities in swarga Lok. They were very angry and helpless with the tortures of the Demons. Narada prayed to Mata Parvati to escape them from those Demons.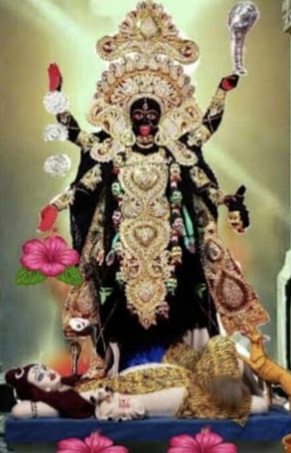 Mata Parvati was so angry she opened her 3rd eye and her anger forms an new Avatar is called Mata Kalika. She was so violent and horrible looking all Deities in Swarga Lok were run away and hide behind. She fought with Danda and Munda furiously and killed them. After them she fought with dangerous another Demon called "Raktabeej". He was so dangerous if one drop of his blood fell in to the ground thousands clone demons were born. Mata kali fought hard and several time she killed Raktabeej but he reborn again. At last she cut his head and drink all blood from his body. Not a single drop of blood fell in to the ground. Thus she killed Raktabeej finally.
After killing Raktabeej and other Demons she was so violent she started to kill any one who appeared in her way. She killed started to kill normal people also. Nobody can stop her and she started to destroy all existing things in the Universe because she is also the destructor of the Universe. When Lord Shiva who is her Husband also, heard about all these things from other deities he lie on her path and Mata Kali touched with her leg and realized her mistake. She was statute and calm down with her tongue out from her mouth.
Mata Parvati's angry incarnation is Mata Kali. She is worshiped on her Kali Avatar when she touch Shiva she became calm again. Importance of mata Kali Avatar in Hindu religious for "Tantra Sadhana" and spiritualism is also another significance.